Who doesn't need a little serenity these days? Now is the perfect time to transform part (or all!) of your yard into a soothing, peaceful retreat from the stresses of daily life.
Whether your available space is small or large, thoughtful design and well-considered planting can have amazing salutary effects. While there are many ways to create a serenity garden, here we'll offer 6 basic principles to follow that will help you achieve that calming "aaahhhhhh" effect that lowers your cortisol and helps soothe your soul!
1. Structure
Serenity can be created with both formal and informal garden styles. Formal garden designs typically feature straight lines and symmetrical layouts, whereas informal gardens tend to be curvy and asymmetrical. With either, the key to evoking serenity is simplicity. Avoid busyness by minimizing the number of lines and angles in your design. Especially in small spaces, avoid the temptation to crowd your design with too many shapes or objects. Rather, focus on creating a few key structural elements that will draw the eye and hold it in place, inviting it to rest.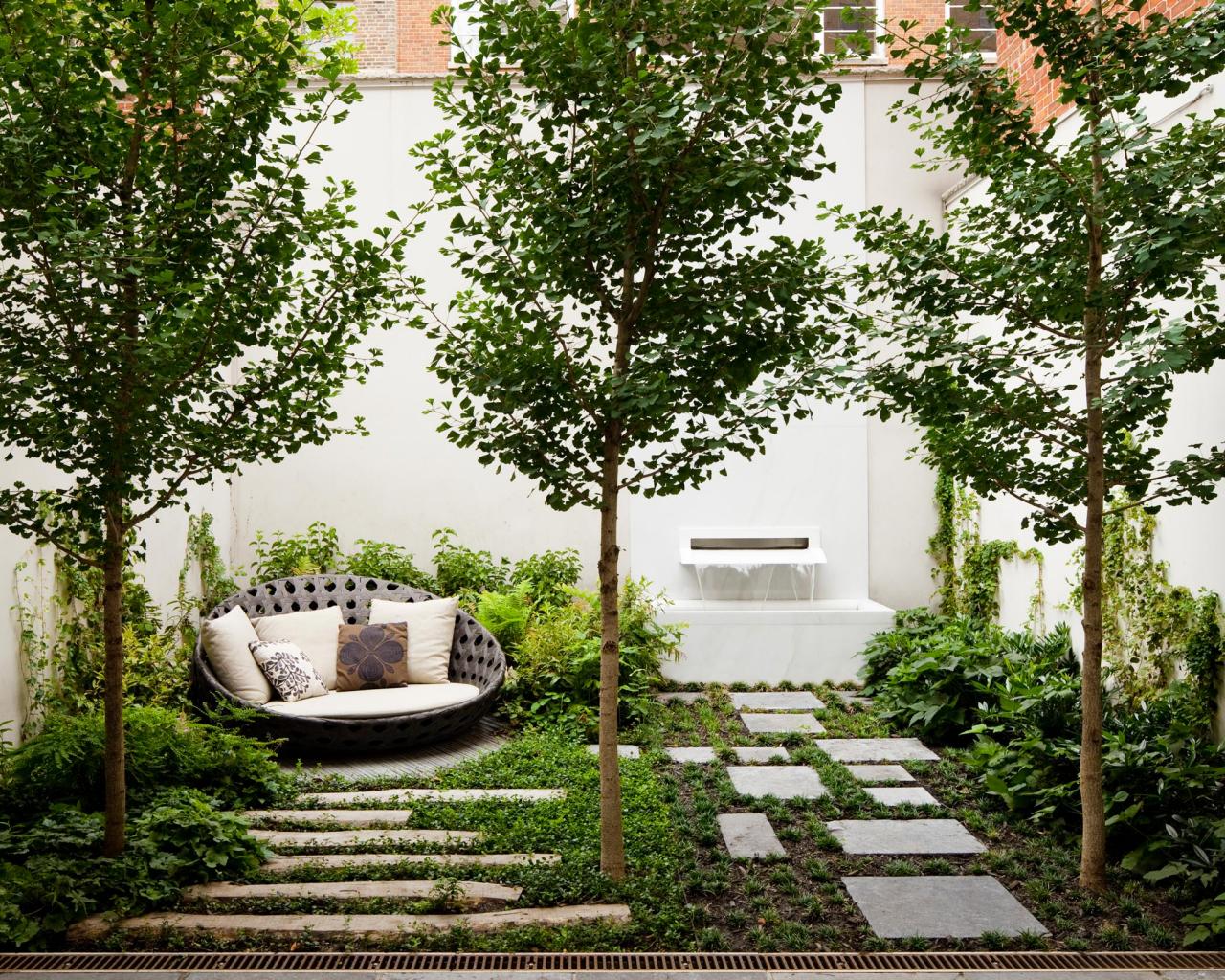 2. Colour
The palette of a serenity garden will lean towards soft, cool colours, such as blues, mauves, greens, greys and whites – although muted warm tones, such as the soft yellows and faded reds of many ornamental grasses, can also be very calming to the senses. 'Hot' colours – such as vibrant reds, oranges, and magentas – as well as intense purples, should be avoided. Designing your garden around the use of a single colour can create a beautiful and calming effect – all green, perhaps, or all white. If using a mix of colours, try to plant the individual colours in large swathes rather than alternating them plant by plant.
3. Shape & Texture
When it comes to shape, avoid angular, stiff, or spiky plant forms. Opt instead for those with soft, nodding, or weeping habits. Consider including plants with inviting textures – think of a carpet of soft moss beneath your feet, or tufts of fine grasses to run your fingers through. When considering garden furniture, the natural grain of wood may be more calming to the senses than plastic or metal; however, the cool, minimalistic surface of concrete can also have a tranquil effect.
4. Scent
Your garden can also provide aromatherapy! Lavender, mock orange, lilac, wisteria, viburnum, buddleia, and other scented perennials or shrubs can be included in your planting scheme to enhance this experience. Arrange your design so these plants are close to pathways or seating areas, where they'll be most noticeable. If incorporating wood furniture, screening, or pergolas, the use of cedar can also add a lovely, soft fragrance.

5. Sound
When selecting plants, try to include trees and shrubs with leaves that will rustle in the breeze (like quaking Aspen, for example), and perennials that will fill your garden with the contented hum of bees (Lavender, Asclepias, and Caryopteris are great). A bird feeder or bird bath can fill your garden with delightful chirping, and a water feature with gently bubbling or trickling sounds can be very soothing (and if background noise is a issue, the latter can help to mask unpleasant sounds). The right wind chime can also add a meditative ring to your space.

6. Movement
Lastly, movement is also very important to a serenity garden – both in terms of the what the garden contains and how you interact with it. For the first, tall grasses and tree branches that sway in the breeze can be transfixing and calming to watch, as can the movement of water. Think too of the gentle pleasure of seeing birds flitting in a birdbath, or butterflies floating through the plants. To enhance interaction, consider including a footpath for meditative strolls through your garden. Creating multiple spaces, especially ones that are partly hidden by plants or structures, will also help to draw you into the soothing world of your garden, away from the stresses of the day. Perhaps a reading nook, yoga space, or just a secluded spot to sip a glass a wine!